Advanced microprocessors for a
total control.
Our Automatic Control Device is the heart of our wood drying kilns. The effectiveness of the automatism is the most accountable quality factor in wood processing. A full control of the air and wood parameters will later shape the best results expressed in terms of:
quality achievement
flawless
time-saving
lower energy consumption
BIGonDRY srl affords a wide range of microprocessor control mechanisms.
All automatisms, only manufactured in Italy, represent the engineering excellence in the wood sector.
These devices provide a progressive drying setting, employing technologically advanced probes, for a significant energy saving.
Our control units are equipped with an easy to use interface, particularly important in case of non-computerized systems.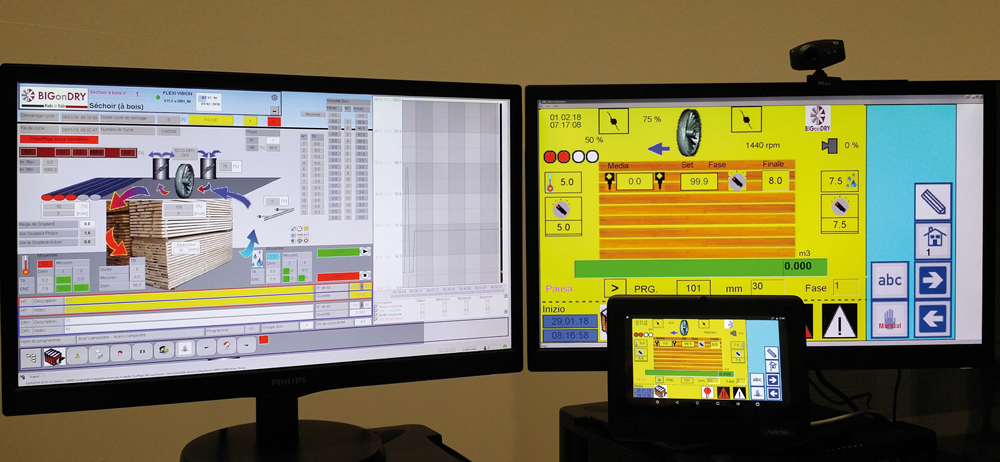 control System
Treatment management and control.
Plant Computer Management
Artificial Drying
Artificial drying is used to reduce the wood moisture content to set values, properly monitoring the climatic parameters in the plant such as:
temperature
humidity
pressure
ventilation.
Basically the artificial drying leads to a rapid and low-cost removal of water from wood, in order to prevent any moisture gradients uprise or surplus.
A good drying process offers the following advantages:
it is possible to obtain any humidity values regardless of climate and atmospheric conditions
the drying is more homogenous
drying times are reduced
lower investment and operating costs
lower risk of alterations caused by fungi or other serious damages of wood
the wood is sterilized against insects, eggs and larvae
improvement in the added value of the finished product
An improper control of the drying process involves shrinkage and swelling of wood, such as:
residual internal stresses
cracks, collapses ...
irregular humidity distribution
wood unsuitable for quality manufacturing purposes
Plant Computer Management
Main features:
easy-to-use keypad/display interface
RX System PC-based connection
up to 30 phases per cycle
parameter proportional control
advanced drying function ("Advanced Drying")
multiple input value control sensors
multiple actuator and output device control
energy saving applications through active control of fan speed drive based on actual air circulation and turbulence measuring
adjustable fan speed within a time band planning
PDF Reports on energy consumption per drying cycle
VENUS 2500GR multi-language support including Cyrillic script
alphanumeric display
sterilization management/control function according to FAO ISPM-15 standards.
Drying cycle
The drying cycle is fully controlled.
Every single cycle is customized during the drying process and each step can be adjusted upon individual needs.